The Tesla Cybertruck, unveiled by Elon Musk in November 2019, challenges conventional automotive design with its futuristic, angular appearance. Inspired by cinematic masterpieces like Blade Runner, this electric pickup combines a truck's utility with a sports car's performance.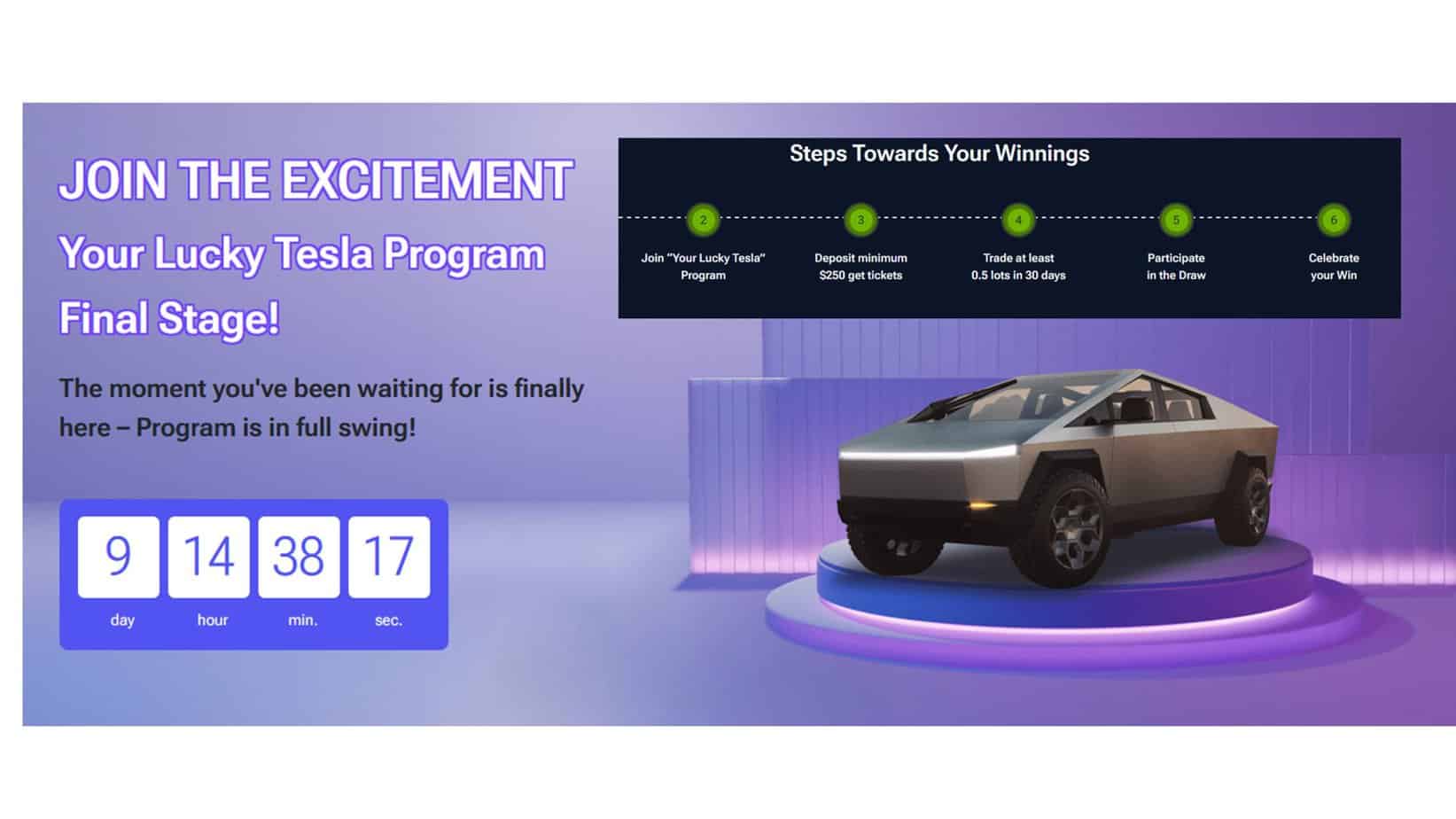 APPLY TO WIN TESLA CYBERTRUCK
IFC Markets is setting the bar high with their latest competition, offering traders the chance to win a coveted Tesla Cybertruck. If the idea of cruising around in one of the most talked-about vehicles of the year excites you, read on to learn how to participate in this exceptional opportunity.
Watch my video about live trading lucky draw:

How to Win a Tesla Cybertruck Prize?

1. Register at the IFC Markets prize page:

Visit the Prize page to register. If you haven't already, begin by setting up an account with IFC Markets. The registration process is straightforward and user-friendly, ensuring a smooth start to your journey.
2. Enroll in the "Your Lucky Tesla" Program:
Once registered, navigate to the "Your Lucky Tesla" program and sign up. This is your entry ticket to the grand prize and several other exciting rewards.
3. Make a Minimum Deposit of $250:
Deposit a minimum of $250 into your IFC Markets account. Not only does this activate your account for trading, but it also secures your tickets for the competition.
4. Commit to Trading:
Over the next 30 days, trade a minimum of 0.5 lots. This requirement ensures active participation and maintains the spirit of the competition.
5. Secure Your Spot in the Draw:
Having met the trading requirement, you automatically qualify for the prize draw. Your chances increase with every additional ticket you earn through trading.
6. Await the Grand Draw and Celebrate if You Win:
As the competition comes to a close, the anticipation will rise. If luck is on your side, you could be the proud owner of a brand-new Tesla Cybertruck!
Prizes in Lucky Draw

The Tesla Cybertruck is undeniably the star prize, but it's not the only reward up for grabs. IFC Markets has ensured that there's something for everyone. Here's a breakdown of the prizes:
Grand Prize: 1 x Tesla Cybertruck
Revel in the glory of owning one of the most innovative vehicles of our time.
Golden Opportunity: 1 x 5 OZ Gold Bar
A timeless asset that could be a worthy addition to your investment portfolio.
Tech Treasures:

5 x Apple MacBook Pro: Perfect for both work and leisure.
10 x iPad Air: Experience the best of technology and design.
10 x iPhone 14: Stay connected with the latest from Apple.
20 x Netbook: Compact, handy, and perfect for on-the-go tasks.

Cash Bonuses:
One hundred winners will receive $100 bonuses to boost their trading endeavors.
Special Offer:
Participants can also avail themselves of up to a 50% bonus on their deposits for a limited time.
Conclusion
IFC Markets' live trading competition offers an unparalleled opportunity for traders to engage in the market actively and stand a chance to win some genuinely life-changing prizes. So, gear up, trade, and who knows? You might drive away with a Tesla Cybertruck!