Silver price today – silver chart
Below is presented silver price last 10 years chart: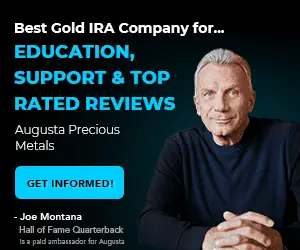 Live silver chart
Silver price history of 100 years
Below is the presented silver price history from 1915 till 2021. Over time, the price of silver shows the price ranged from 29 cents per ounce (January of 1931 during the Great Depression) up to $49.45 per ounce on January 18, 1980.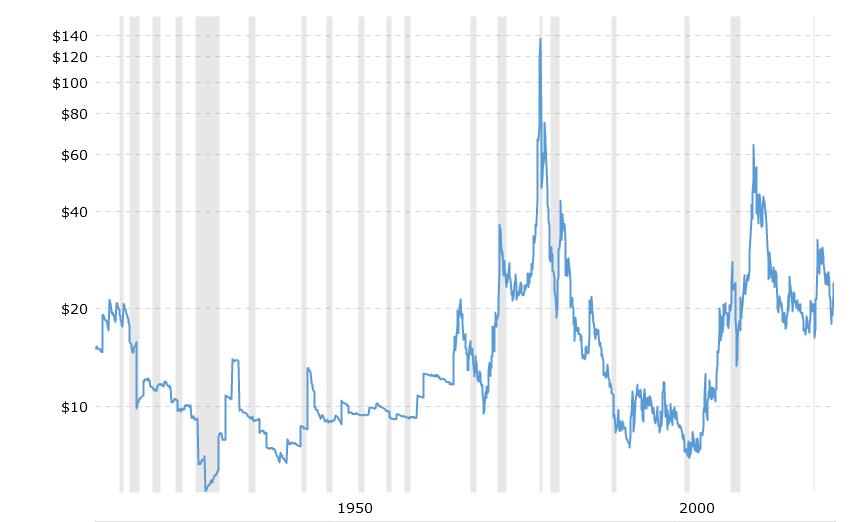 Silver price over time interactive chart
What is the highest price that silver has ever been?
The highest silver price to date was $49.45 per ounce on January 18, 1980. The Hunt brothers ( W. Herbert Hunt and Nelson Bunker Hunt.) bought silver in the early 1970s to hedge against inflation. From 1979 till 1980, the silver price jumped 724%. In late January 1980., COMEX raised margin requirements, and the silver market crash occurred.

Silver has been a valuable and sought-after commodity throughout history. For centuries, it has been used as a currency and wealth store in many civilizations worldwide. But when we look at the silver price history over the past 100 years, we can see dramatic swings in pricing, reflecting the changing economic conditions of the times.
From 1915 to 2021, the price of silver ranged from as low as 29 cents an ounce during the Great Depression to highs of as much as $49.45 per ounce in 1980. The primary cause for these huge swings was speculation about inflation and deflation by prominent financial players like W. Herbert Hunt and Nelson Bunker Hunt. In fact, during their attempt to corner the silver market from 1979 to 1980, prices increased 724% before plummeting again after COMEX raised margin requirements on investors.
In recent times, silver prices have generally increased steadily since 2005 due to continued demand by industrial users like solar panel manufacturers and electrical appliance producers. Silver is also seen as a hedge against inflation and uncertainty about global economies, leading investors worldwide to stock up on silver reserves to protect their wealth.
Another factor driving silver prices in recent years is its use in jewelry and art and crafts. Due to its malleability and physical properties, such as its ability to reflect light better than gold or platinum, many designers have increasingly used it in their collections. This demand for creative uses of silver is causing prices to remain relatively high despite the global economic downturns caused by COVID-19 lockdowns over the past year or so.
Overall then, while there are still some major fluctuation points throughout silver's price history over the last 100 years, today's prices seem more stable compared with periods during World War I or II, where drastic variation could occur within just months or even weeks of each other due primarily to geopolitical events or shifts in financial regulations governing investments. With increasing use both commercially and artistically expected for years ahead, it will be interesting to see how much further into record territory this precious metal will go before leveling off again sometime soon!
What is the lowest silver has ever been?
In the last 100 years, the lowest silver price was 29 cents per ounce (on an inflation-adjusted basis) in January of 1931 during the Great Depression.
50 years silver chart
Below is a presented 50-year historical silver chart: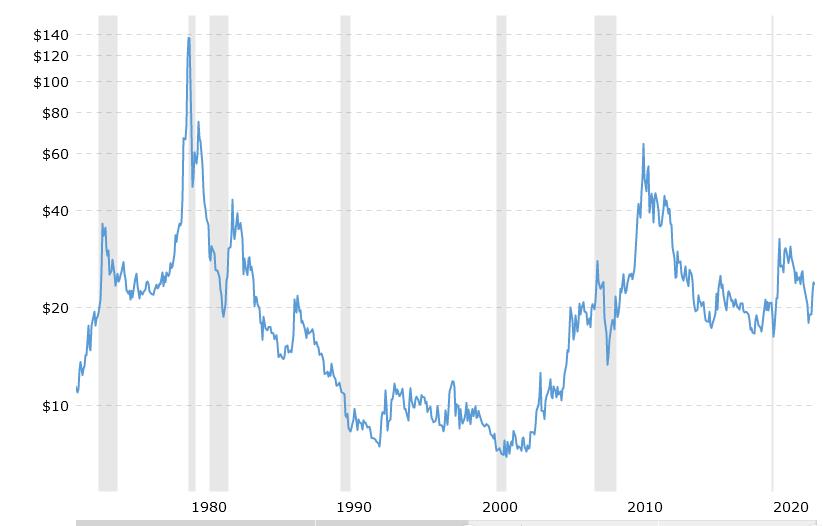 Silver price chart 30 years
Below is presented silver price chart for the last 30 years: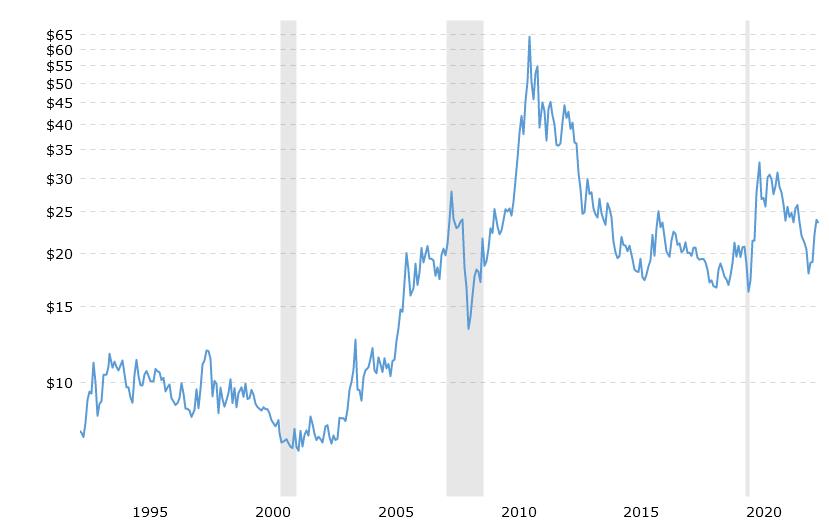 Silver price history table from 1915 till 2021
| Date | Silver price |
| --- | --- |
| 1915-01-01 | 13.59 |
| 1915-02-01 | 13.73 |
| 1915-03-01 | 13.87 |
| 1915-04-01 | 13.73 |
| 1915-05-01 | 13.59 |
| 1915-06-01 | 13.59 |
| 1915-07-01 | 13.59 |
| 1915-08-01 | 13.59 |
| 1915-09-01 | 13.59 |
| 1915-10-01 | 13.46 |
| 1915-11-01 | 13.33 |
| 1915-12-01 | 13.33 |
| 1916-01-01 | 17.34 |
| 1916-02-01 | 17.34 |
| 1916-03-01 | 17.18 |
| 1916-04-01 | 17.02 |
| 1916-05-01 | 16.86 |
| 1916-06-01 | 16.7 |
| 1916-07-01 | 16.7 |
| 1916-08-01 | 16.55 |
| 1916-09-01 | 16.25 |
| 1916-10-01 | 15.96 |
| 1916-11-01 | 15.68 |
| 1916-12-01 | 15.55 |
| 1917-01-01 | 19.33 |
| 1917-02-01 | 18.84 |
| 1917-03-01 | 18.84 |
| 1917-04-01 | 17.95 |
| 1917-05-01 | 17.67 |
| 1917-06-01 | 17.39 |
| 1917-07-01 | 17.67 |
| 1917-08-01 | 17.39 |
| 1917-09-01 | 17 |
| 1917-10-01 | 16.75 |
| 1917-11-01 | 16.75 |
| 1917-12-01 | 16.51 |
| 1918-01-01 | 18.84 |
| 1918-02-01 | 18.71 |
| 1918-03-01 | 18.84 |
| 1918-04-01 | 18.58 |
| 1918-05-01 | 18.19 |
| 1918-06-01 | 17.95 |
| 1918-07-01 | 17.47 |
| 1918-08-01 | 17.13 |
| 1918-09-01 | 16.8 |
| 1918-10-01 | 16.49 |
| 1918-11-01 | 16.18 |
| 1918-12-01 | 15.99 |
| 1919-01-01 | 18.44 |
| 1919-02-01 | 18.78 |
| 1919-03-01 | 18.55 |
| 1919-04-01 | 18.21 |
| 1919-05-01 | 18 |
| 1919-06-01 | 18 |
| 1919-07-01 | 17.48 |
| 1919-08-01 | 17.19 |
| 1919-09-01 | 17.09 |
| 1919-10-01 | 16.81 |
| 1919-11-01 | 16.44 |
| 1919-12-01 | 16.09 |
| 1920-01-01 | 14.37 |
| 1920-02-01 | 14.22 |
| 1920-03-01 | 14.07 |
| 1920-04-01 | 13.66 |
| 1920-05-01 | 13.46 |
| 1920-06-01 | 13.27 |
| 1920-07-01 | 13.33 |
| 1920-08-01 | 13.66 |
| 1920-09-01 | 13.86 |
| 1920-10-01 | 13.93 |
| 1920-11-01 | 14 |
| 1920-12-01 | 14.29 |
| 1921-01-01 | 8.93 |
| 1921-02-01 | 9.22 |
| 1921-03-01 | 9.27 |
| 1921-04-01 | 9.37 |
| 1921-05-01 | 9.58 |
| 1921-06-01 | 9.64 |
| 1921-07-01 | 9.58 |
| 1921-08-01 | 9.58 |
| 1921-09-01 | 9.69 |
| 1921-10-01 | 9.69 |
| 1921-11-01 | 9.75 |
| 1921-12-01 | 9.8 |
| 1922-01-01 | 10.83 |
| 1922-02-01 | 10.83 |
| 1922-03-01 | 10.96 |
| 1922-04-01 | 10.96 |
| 1922-05-01 | 10.96 |
| 1922-06-01 | 10.96 |
| 1922-07-01 | 10.9 |
| 1922-08-01 | 11.03 |
| 1922-09-01 | 11.03 |
| 1922-10-01 | 10.96 |
| 1922-11-01 | 10.9 |
| 1922-12-01 | 10.83 |
| 1923-01-01 | 10.42 |
| 1923-02-01 | 10.42 |
| 1923-03-01 | 10.42 |
| 1923-04-01 | 10.35 |
| 1923-05-01 | 10.35 |
| 1923-06-01 | 10.29 |
| 1923-07-01 | 10.17 |
| 1923-08-01 | 10.23 |
| 1923-09-01 | 10.17 |
| 1923-10-01 | 10.11 |
| 1923-11-01 | 10.11 |
| 1923-12-01 | 10.11 |
| 1924-01-01 | 10.43 |
| 1924-02-01 | 10.49 |
| 1924-03-01 | 10.55 |
| 1924-04-01 | 10.61 |
| 1924-05-01 | 10.61 |
| 1924-06-01 | 10.61 |
| 1924-07-01 | 10.55 |
| 1924-08-01 | 10.61 |
| 1924-09-01 | 10.55 |
| 1924-10-01 | 10.49 |
| 1924-11-01 | 10.49 |
| 1924-12-01 | 10.43 |
| 1925-01-01 | 10.74 |
| 1925-02-01 | 10.8 |
| 1925-03-01 | 10.74 |
| 1925-04-01 | 10.8 |
| 1925-05-01 | 10.74 |
| 1925-06-01 | 10.61 |
| 1925-07-01 | 10.49 |
| 1925-08-01 | 10.49 |
| 1925-09-01 | 10.49 |
| 1925-10-01 | 10.49 |
| 1925-11-01 | 10.32 |
| 1925-12-01 | 10.38 |
| 1926-01-01 | 9.32 |
| 1926-02-01 | 9.32 |
| 1926-03-01 | 9.38 |
| 1926-04-01 | 9.32 |
| 1926-05-01 | 9.38 |
| 1926-06-01 | 9.43 |
| 1926-07-01 | 9.54 |
| 1926-08-01 | 9.59 |
| 1926-09-01 | 9.54 |
| 1926-10-01 | 9.48 |
| 1926-11-01 | 9.43 |
| 1926-12-01 | 9.43 |
| 1927-01-01 | 8.77 |
| 1927-02-01 | 8.82 |
| 1927-03-01 | 8.87 |
| 1927-04-01 | 8.87 |
| 1927-05-01 | 8.82 |
| 1927-06-01 | 8.72 |
| 1927-07-01 | 8.87 |
| 1927-08-01 | 8.92 |
| 1927-09-01 | 8.87 |
| 1927-10-01 | 8.82 |
| 1927-11-01 | 8.87 |
| 1927-12-01 | 8.87 |
| 1928-01-01 | 9.02 |
| 1928-02-01 | 9.13 |
| 1928-03-01 | 9.13 |
| 1928-04-01 | 9.13 |
| 1928-05-01 | 9.08 |
| 1928-06-01 | 9.13 |
| 1928-07-01 | 9.13 |
| 1928-08-01 | 9.13 |
| 1928-09-01 | 9.02 |
| 1928-10-01 | 9.08 |
| 1928-11-01 | 9.08 |
| 1928-12-01 | 9.13 |
| 1929-01-01 | 8.34 |
| 1929-02-01 | 8.34 |
| 1929-03-01 | 8.39 |
| 1929-04-01 | 8.44 |
| 1929-05-01 | 8.39 |
| 1929-06-01 | 8.34 |
| 1929-07-01 | 8.25 |
| 1929-08-01 | 8.25 |
| 1929-09-01 | 8.25 |
| 1929-10-01 | 8.25 |
| 1929-11-01 | 8.25 |
| 1929-12-01 | 8.3 |
| 1930-01-01 | 5.98 |
| 1930-02-01 | 6.02 |
| 1930-03-01 | 6.05 |
| 1930-04-01 | 6.02 |
| 1930-05-01 | 6.05 |
| 1930-06-01 | 6.09 |
| 1930-07-01 | 6.16 |
| 1930-08-01 | 6.2 |
| 1930-09-01 | 6.16 |
| 1930-10-01 | 6.2 |
| 1930-11-01 | 6.24 |
| 1930-12-01 | 6.35 |
| 1931-01-01 | 4.91 |
| 1931-02-01 | 4.97 |
| 1931-03-01 | 5 |
| 1931-04-01 | 5.04 |
| 1931-05-01 | 5.1 |
| 1931-06-01 | 5.17 |
| 1931-07-01 | 5.17 |
| 1931-08-01 | 5.17 |
| 1931-09-01 | 5.2 |
| 1931-10-01 | 5.24 |
| 1931-11-01 | 5.31 |
| 1931-12-01 | 5.35 |
| 1932-01-01 | 5.27 |
| 1932-02-01 | 5.35 |
| 1932-03-01 | 5.38 |
| 1932-04-01 | 5.42 |
| 1932-05-01 | 5.5 |
| 1932-06-01 | 5.54 |
| 1932-07-01 | 5.54 |
| 1932-08-01 | 5.58 |
| 1932-09-01 | 5.62 |
| 1932-10-01 | 5.67 |
| 1932-11-01 | 5.71 |
| 1932-12-01 | 5.75 |
| 1933-01-01 | 7.3 |
| 1933-02-01 | 7.42 |
| 1933-03-01 | 7.48 |
| 1933-04-01 | 7.48 |
| 1933-05-01 | 7.48 |
| 1933-06-01 | 7.42 |
| 1933-07-01 | 7.19 |
| 1933-08-01 | 7.14 |
| 1933-09-01 | 7.14 |
| 1933-10-01 | 7.14 |
| 1933-11-01 | 7.14 |
| 1933-12-01 | 7.14 |
| 1934-01-01 | 9.79 |
| 1934-02-01 | 9.72 |
| 1934-03-01 | 9.72 |
| 1934-04-01 | 9.72 |
| 1934-05-01 | 9.72 |
| 1934-06-01 | 9.64 |
| 1934-07-01 | 9.64 |
| 1934-08-01 | 9.64 |
| 1934-09-01 | 9.5 |
| 1934-10-01 | 9.57 |
| 1934-11-01 | 9.57 |
| 1934-12-01 | 9.64 |
| 1935-01-01 | 12.67 |
| 1935-02-01 | 12.58 |
| 1935-03-01 | 12.58 |
| 1935-04-01 | 12.48 |
| 1935-05-01 | 12.48 |
| 1935-06-01 | 12.58 |
| 1935-07-01 | 12.58 |
| 1935-08-01 | 12.58 |
| 1935-09-01 | 12.58 |
| 1935-10-01 | 12.58 |
| 1935-11-01 | 12.48 |
| 1935-12-01 | 12.48 |
| 1936-01-01 | 8.78 |
| 1936-02-01 | 8.78 |
| 1936-03-01 | 8.84 |
| 1936-04-01 | 8.84 |
| 1936-05-01 | 8.84 |
| 1936-06-01 | 8.78 |
| 1936-07-01 | 8.72 |
| 1936-08-01 | 8.65 |
| 1936-09-01 | 8.65 |
| 1936-10-01 | 8.65 |
| 1936-11-01 | 8.65 |
| 1936-12-01 | 8.65 |
| 1937-01-01 | 8.59 |
| 1937-02-01 | 8.59 |
| 1937-03-01 | 8.53 |
| 1937-04-01 | 8.47 |
| 1937-05-01 | 8.41 |
| 1937-06-01 | 8.41 |
| 1937-07-01 | 8.35 |
| 1937-08-01 | 8.35 |
| 1937-09-01 | 8.3 |
| 1937-10-01 | 8.3 |
| 1937-11-01 | 8.35 |
| 1937-12-01 | 8.41 |
| 1938-01-01 | 8.15 |
| 1938-02-01 | 8.21 |
| 1938-03-01 | 8.21 |
| 1938-04-01 | 8.15 |
| 1938-05-01 | 8.21 |
| 1938-06-01 | 8.21 |
| 1938-07-01 | 8.21 |
| 1938-08-01 | 8.21 |
| 1938-09-01 | 8.21 |
| 1938-10-01 | 8.27 |
| 1938-11-01 | 8.27 |
| 1938-12-01 | 8.27 |
| 1939-01-01 | 7.5 |
| 1939-02-01 | 7.55 |
| 1939-03-01 | 7.55 |
| 1939-04-01 | 7.61 |
| 1939-05-01 | 7.61 |
| 1939-06-01 | 7.61 |
| 1939-07-01 | 7.61 |
| 1939-08-01 | 7.61 |
| 1939-09-01 | 7.45 |
| 1939-10-01 | 7.5 |
| 1939-11-01 | 7.5 |
| 1939-12-01 | 7.5 |
| 1940-01-01 | 6.78 |
| 1940-02-01 | 6.73 |
| 1940-03-01 | 6.73 |
| 1940-04-01 | 6.73 |
| 1940-05-01 | 6.73 |
| 1940-06-01 | 6.68 |
| 1940-07-01 | 6.73 |
| 1940-08-01 | 6.73 |
| 1940-09-01 | 6.73 |
| 1940-10-01 | 6.73 |
| 1940-11-01 | 6.73 |
| 1940-12-01 | 6.68 |
| 1941-01-01 | 6.68 |
| 1941-02-01 | 6.68 |
| 1941-03-01 | 6.63 |
| 1941-04-01 | 6.59 |
| 1941-05-01 | 6.54 |
| 1941-06-01 | 6.41 |
| 1941-07-01 | 6.41 |
| 1941-08-01 | 6.32 |
| 1941-09-01 | 6.24 |
| 1941-10-01 | 6.16 |
| 1941-11-01 | 6.12 |
| 1941-12-01 | 6.08 |
| 1942-01-01 | 6.52 |
| 1942-02-01 | 6.47 |
| 1942-03-01 | 6.39 |
| 1942-04-01 | 6.35 |
| 1942-05-01 | 6.28 |
| 1942-06-01 | 6.28 |
| 1942-07-01 | 6.24 |
| 1942-08-01 | 6.2 |
| 1942-09-01 | 6.2 |
| 1942-10-01 | 6.13 |
| 1942-11-01 | 6.09 |
| 1942-12-01 | 6.05 |
| 1943-01-01 | 7.17 |
| 1943-02-01 | 7.17 |
| 1943-03-01 | 7.04 |
| 1943-04-01 | 6.96 |
| 1943-05-01 | 6.92 |
| 1943-06-01 | 6.92 |
| 1943-07-01 | 6.96 |
| 1943-08-01 | 7 |
| 1943-09-01 | 6.96 |
| 1943-10-01 | 6.96 |
| 1943-11-01 | 6.96 |
| 1943-12-01 | 6.96 |
| 1944-01-01 | 6.96 |
| 1944-02-01 | 6.96 |
| 1944-03-01 | 6.96 |
| 1944-04-01 | 6.92 |
| 1944-05-01 | 6.92 |
| 1944-06-01 | 6.88 |
| 1944-07-01 | 6.84 |
| 1944-08-01 | 6.84 |
| 1944-09-01 | 6.84 |
| 1944-10-01 | 6.84 |
| 1944-11-01 | 6.84 |
| 1944-12-01 | 6.81 |
| 1945-01-01 | 7.86 |
| 1945-02-01 | 7.86 |
| 1945-03-01 | 7.86 |
| 1945-04-01 | 7.86 |
| 1945-05-01 | 7.82 |
| 1945-06-01 | 7.73 |
| 1945-07-01 | 7.73 |
| 1945-08-01 | 7.73 |
| 1945-09-01 | 7.73 |
| 1945-10-01 | 7.73 |
| 1945-11-01 | 7.73 |
| 1945-12-01 | 7.69 |
| 1946-01-01 | 11.83 |
| 1946-02-01 | 11.9 |
| 1946-03-01 | 11.77 |
| 1946-04-01 | 11.7 |
| 1946-05-01 | 11.64 |
| 1946-06-01 | 11.52 |
| 1946-07-01 | 10.88 |
| 1946-08-01 | 10.66 |
| 1946-09-01 | 10.56 |
| 1946-10-01 | 10.35 |
| 1946-11-01 | 10.11 |
| 1946-12-01 | 10.02 |
| 1947-01-01 | 9.02 |
| 1947-02-01 | 9.02 |
| 1947-03-01 | 8.85 |
| 1947-04-01 | 8.85 |
| 1947-05-01 | 8.85 |
| 1947-06-01 | 8.81 |
| 1947-07-01 | 8.73 |
| 1947-08-01 | 8.61 |
| 1947-09-01 | 8.43 |
| 1947-10-01 | 8.43 |
| 1947-11-01 | 8.39 |
| 1947-12-01 | 8.28 |
| 1948-01-01 | 8.4 |
| 1948-02-01 | 8.48 |
| 1948-03-01 | 8.51 |
| 1948-04-01 | 8.37 |
| 1948-05-01 | 8.33 |
| 1948-06-01 | 8.27 |
| 1948-07-01 | 8.16 |
| 1948-08-01 | 8.13 |
| 1948-09-01 | 8.13 |
| 1948-10-01 | 8.16 |
| 1948-11-01 | 8.23 |
| 1948-12-01 | 8.27 |
| 1949-01-01 | 8.08 |
| 1949-02-01 | 8.14 |
| 1949-03-01 | 8.14 |
| 1949-04-01 | 8.11 |
| 1949-05-01 | 8.14 |
| 1949-06-01 | 8.11 |
| 1949-07-01 | 8.18 |
| 1949-08-01 | 8.14 |
| 1949-09-01 | 8.11 |
| 1949-10-01 | 8.18 |
| 1949-11-01 | 8.14 |
| 1949-12-01 | 8.21 |
| 1950-01-01 | 8.48 |
| 1950-02-01 | 8.48 |
| 1950-03-01 | 8.44 |
| 1950-04-01 | 8.44 |
| 1950-05-01 | 8.4 |
| 1950-06-01 | 8.37 |
| 1950-07-01 | 8.27 |
| 1950-08-01 | 8.2 |
| 1950-09-01 | 8.16 |
| 1950-10-01 | 8.1 |
| 1950-11-01 | 8.07 |
| 1950-12-01 | 7.97 |
| 1951-01-01 | 9.43 |
| 1951-02-01 | 9.32 |
| 1951-03-01 | 9.29 |
| 1951-04-01 | 9.29 |
| 1951-05-01 | 9.25 |
| 1951-06-01 | 9.25 |
| 1951-07-01 | 9.25 |
| 1951-08-01 | 9.25 |
| 1951-09-01 | 9.18 |
| 1951-10-01 | 9.14 |
| 1951-11-01 | 9.08 |
| 1951-12-01 | 9.04 |
| 1952-01-01 | 8.63 |
| 1952-02-01 | 8.7 |
| 1952-03-01 | 8.7 |
| 1952-04-01 | 8.67 |
| 1952-05-01 | 8.67 |
| 1952-06-01 | 8.63 |
| 1952-07-01 | 8.57 |
| 1952-08-01 | 8.57 |
| 1952-09-01 | 8.57 |
| 1952-10-01 | 8.57 |
| 1952-11-01 | 8.57 |
| 1952-12-01 | 8.57 |
| 1953-01-01 | 8.6 |
| 1953-02-01 | 8.63 |
| 1953-03-01 | 8.6 |
| 1953-04-01 | 8.6 |
| 1953-05-01 | 8.57 |
| 1953-06-01 | 8.54 |
| 1953-07-01 | 8.54 |
| 1953-08-01 | 8.51 |
| 1953-09-01 | 8.51 |
| 1953-10-01 | 8.47 |
| 1953-11-01 | 8.51 |
| 1953-12-01 | 8.51 |
| 1954-01-01 | 8.51 |
| 1954-02-01 | 8.51 |
| 1954-03-01 | 8.51 |
| 1954-04-01 | 8.54 |
| 1954-05-01 | 8.51 |
| 1954-06-01 | 8.51 |
| 1954-07-01 | 8.51 |
| 1954-08-01 | 8.51 |
| 1954-09-01 | 8.54 |
| 1954-10-01 | 8.54 |
| 1954-11-01 | 8.54 |
| 1954-12-01 | 8.57 |
| 1955-01-01 | 8.97 |
| 1955-02-01 | 8.97 |
| 1955-03-01 | 8.97 |
| 1955-04-01 | 8.97 |
| 1955-05-01 | 8.97 |
| 1955-06-01 | 8.97 |
| 1955-07-01 | 8.94 |
| 1955-08-01 | 8.94 |
| 1955-09-01 | 8.91 |
| 1955-10-01 | 8.91 |
| 1955-11-01 | 8.91 |
| 1955-12-01 | 8.94 |
| 1956-01-01 | 9.24 |
| 1956-02-01 | 9.24 |
| 1956-03-01 | 9.24 |
| 1956-04-01 | 9.21 |
| 1956-05-01 | 9.17 |
| 1956-06-01 | 9.11 |
| 1956-07-01 | 9.04 |
| 1956-08-01 | 9.07 |
| 1956-09-01 | 9.04 |
| 1956-10-01 | 9.01 |
| 1956-11-01 | 9.01 |
| 1956-12-01 | 8.97 |
| 1957-01-01 | 8.97 |
| 1957-02-01 | 8.94 |
| 1957-03-01 | 8.91 |
| 1957-04-01 | 8.88 |
| 1957-05-01 | 8.84 |
| 1957-06-01 | 8.81 |
| 1957-07-01 | 8.75 |
| 1957-08-01 | 8.75 |
| 1957-09-01 | 8.75 |
| 1957-10-01 | 8.75 |
| 1957-11-01 | 8.72 |
| 1957-12-01 | 8.72 |
| 1958-01-01 | 8.38 |
| 1958-02-01 | 8.38 |
| 1958-03-01 | 8.32 |
| 1958-04-01 | 8.29 |
| 1958-05-01 | 8.29 |
| 1958-06-01 | 8.29 |
| 1958-07-01 | 8.26 |
| 1958-08-01 | 8.29 |
| 1958-09-01 | 8.29 |
| 1958-10-01 | 8.29 |
| 1958-11-01 | 8.26 |
| 1958-12-01 | 8.29 |
| 1959-01-01 | 8.54 |
| 1959-02-01 | 8.57 |
| 1959-03-01 | 8.57 |
| 1959-04-01 | 8.54 |
| 1959-05-01 | 8.54 |
| 1959-06-01 | 8.51 |
| 1959-07-01 | 8.48 |
| 1959-08-01 | 8.48 |
| 1959-09-01 | 8.45 |
| 1959-10-01 | 8.42 |
| 1959-11-01 | 8.42 |
| 1959-12-01 | 8.42 |
| 1960-01-01 | 8.45 |
| 1960-02-01 | 8.42 |
| 1960-03-01 | 8.42 |
| 1960-04-01 | 8.4 |
| 1960-05-01 | 8.4 |
| 1960-06-01 | 8.37 |
| 1960-07-01 | 8.37 |
| 1960-08-01 | 8.37 |
| 1960-09-01 | 8.37 |
| 1960-10-01 | 8.31 |
| 1960-11-01 | 8.31 |
| 1960-12-01 | 8.31 |
| 1961-01-01 | 8.4 |
| 1961-02-01 | 8.4 |
| 1961-03-01 | 8.4 |
| 1961-04-01 | 8.4 |
| 1961-05-01 | 8.4 |
| 1961-06-01 | 8.4 |
| 1961-07-01 | 8.34 |
| 1961-08-01 | 8.37 |
| 1961-09-01 | 8.34 |
| 1961-10-01 | 8.34 |
| 1961-11-01 | 8.34 |
| 1961-12-01 | 8.34 |
| 1962-01-01 | 9.78 |
| 1962-02-01 | 9.75 |
| 1962-03-01 | 9.75 |
| 1962-04-01 | 9.72 |
| 1962-05-01 | 9.72 |
| 1962-06-01 | 9.72 |
| 1962-07-01 | 9.68 |
| 1962-08-01 | 9.68 |
| 1962-09-01 | 9.65 |
| 1962-10-01 | 9.65 |
| 1962-11-01 | 9.65 |
| 1962-12-01 | 9.65 |
| 1963-01-01 | 11.42 |
| 1963-02-01 | 11.42 |
| 1963-03-01 | 11.39 |
| 1963-04-01 | 11.39 |
| 1963-05-01 | 11.39 |
| 1963-06-01 | 11.39 |
| 1963-07-01 | 11.36 |
| 1963-08-01 | 11.36 |
| 1963-09-01 | 11.32 |
| 1963-10-01 | 11.31 |
| 1963-11-01 | 11.31 |
| 1963-12-01 | 11.26 |
| 1964-01-01 | 11.26 |
| 1964-02-01 | 11.27 |
| 1964-03-01 | 11.35 |
| 1964-04-01 | 11.26 |
| 1964-05-01 | 11.26 |
| 1964-06-01 | 11.22 |
| 1964-07-01 | 11.2 |
| 1964-08-01 | 11.28 |
| 1964-09-01 | 11.33 |
| 1964-10-01 | 11.25 |
| 1964-11-01 | 11.2 |
| 1964-12-01 | 11.33 |
| 1965-01-01 | 11.23 |
| 1965-02-01 | 11.23 |
| 1965-03-01 | 11.15 |
| 1965-04-01 | 11.14 |
| 1965-05-01 | 11.08 |
| 1965-06-01 | 10.97 |
| 1965-07-01 | 10.99 |
| 1965-08-01 | 11.02 |
| 1965-09-01 | 11.03 |
| 1965-10-01 | 10.98 |
| 1965-11-01 | 10.99 |
| 1965-12-01 | 10.98 |
| 1966-01-01 | 10.96 |
| 1966-02-01 | 10.88 |
| 1966-03-01 | 10.82 |
| 1966-04-01 | 10.79 |
| 1966-05-01 | 10.75 |
| 1966-06-01 | 10.76 |
| 1966-07-01 | 10.78 |
| 1966-08-01 | 10.77 |
| 1966-09-01 | 10.76 |
| 1966-10-01 | 10.6 |
| 1966-11-01 | 10.6 |
| 1966-12-01 | 10.68 |
| 1967-01-01 | 10.58 |
| 1967-02-01 | 10.64 |
| 1967-03-01 | 10.57 |
| 1967-04-01 | 10.61 |
| 1967-05-01 | 13.06 |
| 1967-06-01 | 13.71 |
| 1967-07-01 | 14.86 |
| 1967-08-01 | 13.52 |
| 1967-09-01 | 13.7 |
| 1967-10-01 | 15 |
| 1967-11-01 | 16.18 |
| 1967-12-01 | 17.89 |
| 1968-01-01 | 15.25 |
| 1968-02-01 | 16.97 |
| 1968-03-01 | 17.46 |
| 1968-04-01 | 18.35 |
| 1968-05-01 | 18.96 |
| 1968-06-01 | 19.4 |
| 1968-07-01 | 17.01 |
| 1968-08-01 | 17.44 |
| 1968-09-01 | 16.37 |
| 1968-10-01 | 14.55 |
| 1968-11-01 | 14.74 |
| 1968-12-01 | 14.97 |
| 1969-01-01 | 15.13 |
| 1969-02-01 | 13.71 |
| 1969-03-01 | 13.65 |
| 1969-04-01 | 13.1 |
| 1969-05-01 | 13.16 |
| 1969-06-01 | 11.72 |
| 1969-07-01 | 11.72 |
| 1969-08-01 | 12.37 |
| 1969-09-01 | 13.76 |
| 1969-10-01 | 14.4 |
| 1969-11-01 | 13.86 |
| 1969-12-01 | 13.08 |
| 1970-01-01 | 13.64 |
| 1970-02-01 | 13.63 |
| 1970-03-01 | 13.43 |
| 1970-04-01 | 12.07 |
| 1970-05-01 | 11.2 |
| 1970-06-01 | 11.33 |
| 1970-07-01 | 12.29 |
| 1970-08-01 | 12.95 |
| 1970-09-01 | 11.6 |
| 1970-10-01 | 12.38 |
| 1970-11-01 | 10.93 |
| 1970-12-01 | 11.19 |
| 1971-01-01 | 10.8 |
| 1971-02-01 | 10.88 |
| 1971-03-01 | 11.61 |
| 1971-04-01 | 11.39 |
| 1971-05-01 | 10.92 |
| 1971-06-01 | 10.49 |
| 1971-07-01 | 10.53 |
| 1971-08-01 | 9.92 |
| 1971-09-01 | 9.31 |
| 1971-10-01 | 8.6 |
| 1971-11-01 | 8.82 |
| 1971-12-01 | 9.05 |
| 1972-01-01 | 10.01 |
| 1972-02-01 | 9.63 |
| 1972-03-01 | 10.39 |
| 1972-04-01 | 10.41 |
| 1972-05-01 | 9.93 |
| 1972-06-01 | 10.18 |
| 1972-07-01 | 11.62 |
| 1972-08-01 | 12.34 |
| 1972-09-01 | 11.24 |
| 1972-10-01 | 11.73 |
| 1972-11-01 | 11.97 |
| 1972-12-01 | 12.94 |
| 1973-01-01 | 12.93 |
| 1973-02-01 | 15.96 |
| 1973-03-01 | 13.7 |
| 1973-04-01 | 13.4 |
| 1973-05-01 | 15.92 |
| 1973-06-01 | 16.52 |
| 1973-07-01 | 17.63 |
| 1973-08-01 | 15.97 |
| 1973-09-01 | 16.81 |
| 1973-10-01 | 17.01 |
| 1973-11-01 | 17.48 |
| 1973-12-01 | 19.18 |
| 1974-01-01 | 23.45 |
| 1974-02-01 | 32.99 |
| 1974-03-01 | 30.24 |
| 1974-04-01 | 32.07 |
| 1974-05-01 | 27.33 |
| 1974-06-01 | 26.26 |
| 1974-07-01 | 27.26 |
| 1974-08-01 | 22.98 |
| 1974-09-01 | 23.54 |
| 1974-10-01 | 25.52 |
| 1974-11-01 | 24.26 |
| 1974-12-01 | 23.04 |
| 1975-01-01 | 21.21 |
| 1975-02-01 | 23.09 |
| 1975-03-01 | 21.84 |
| 1975-04-01 | 22.15 |
| 1975-05-01 | 22.87 |
| 1975-06-01 | 23.41 |
| 1975-07-01 | 25.11 |
| 1975-08-01 | 23.06 |
| 1975-09-01 | 22.31 |
| 1975-10-01 | 20.55 |
| 1975-11-01 | 20.04 |
| 1975-12-01 | 20.49 |
| 1976-01-01 | 19.22 |
| 1976-02-01 | 20.43 |
| 1976-03-01 | 19.52 |
| 1976-04-01 | 21.55 |
| 1976-05-01 | 22.44 |
| 1976-06-01 | 23.12 |
| 1976-07-01 | 21.27 |
| 1976-08-01 | 19.37 |
| 1976-09-01 | 20.43 |
| 1976-10-01 | 20.14 |
| 1976-11-01 | 19.91 |
| 1976-12-01 | 20.27 |
| 1977-01-01 | 20.69 |
| 1977-02-01 | 21.71 |
| 1977-03-01 | 21.86 |
| 1977-04-01 | 21.53 |
| 1977-05-01 | 20.38 |
| 1977-06-01 | 20 |
| 1977-07-01 | 19.95 |
| 1977-08-01 | 19.89 |
| 1977-09-01 | 20.55 |
| 1977-10-01 | 21.38 |
| 1977-11-01 | 20.82 |
| 1977-12-01 | 20.97 |
| 1978-01-01 | 21.53 |
| 1978-02-01 | 21.46 |
| 1978-03-01 | 23.31 |
| 1978-04-01 | 21.14 |
| 1978-05-01 | 22.66 |
| 1978-06-01 | 21.76 |
| 1978-07-01 | 23.32 |
| 1978-08-01 | 22.73 |
| 1978-09-01 | 23.13 |
| 1978-10-01 | 24.93 |
| 1978-11-01 | 24.07 |
| 1978-12-01 | 24.34 |
| 1979-01-01 | 26.62 |
| 1979-02-01 | 30.41 |
| 1979-03-01 | 28.97 |
| 1979-04-01 | 30.77 |
| 1979-05-01 | 33 |
| 1979-06-01 | 32.59 |
| 1979-07-01 | 33.39 |
| 1979-08-01 | 39.44 |
| 1979-09-01 | 60.63 |
| 1979-10-01 | 60.11 |
| 1979-11-01 | 66.76 |
| 1979-12-01 | 105.76 |
| 1980-01-01 | 123.7 |
| 1980-02-01 | 123.28 |
| 1980-03-01 | 64.03 |
| 1980-04-01 | 42.87 |
| 1980-05-01 | 45.91 |
| 1980-06-01 | 54.81 |
| 1980-07-01 | 50.62 |
| 1980-08-01 | 54.08 |
| 1980-09-01 | 68.11 |
| 1980-10-01 | 60.62 |
| 1980-11-01 | 59.23 |
| 1980-12-01 | 50.01 |
| 1981-01-01 | 41.61 |
| 1981-02-01 | 38.09 |
| 1981-03-01 | 36.6 |
| 1981-04-01 | 34.2 |
| 1981-05-01 | 32.62 |
| 1981-06-01 | 26 |
| 1981-07-01 | 25.39 |
| 1981-08-01 | 28.11 |
| 1981-09-01 | 27.09 |
| 1981-10-01 | 26.66 |
| 1981-11-01 | 23.74 |
| 1981-12-01 | 23.65 |
| 1982-01-01 | 23.64 |
| 1982-02-01 | 22.49 |
| 1982-03-01 | 20.6 |
| 1982-04-01 | 19.82 |
| 1982-05-01 | 17.69 |
| 1982-06-01 | 17.02 |
| 1982-07-01 | 18.61 |
| 1982-08-01 | 22.06 |
| 1982-09-01 | 22.66 |
| 1982-10-01 | 27.66 |
| 1982-11-01 | 27.89 |
| 1982-12-01 | 30.52 |
| 1983-01-01 | 39.12 |
| 1983-02-01 | 31.78 |
| 1983-03-01 | 29.56 |
| 1983-04-01 | 33.32 |
| 1983-05-01 | 35.55 |
| 1983-06-01 | 31.71 |
| 1983-07-01 | 32.1 |
| 1983-08-01 | 33.18 |
| 1983-09-01 | 29.59 |
| 1983-10-01 | 23 |
| 1983-11-01 | 25.76 |
| 1983-12-01 | 24.25 |
| 1984-01-01 | 22.88 |
| 1984-02-01 | 25.71 |
| 1984-03-01 | 25.98 |
| 1984-04-01 | 23.71 |
| 1984-05-01 | 24.31 |
| 1984-06-01 | 22.11 |
| 1984-07-01 | 18.32 |
| 1984-08-01 | 19.62 |
| 1984-09-01 | 19.54 |
| 1984-10-01 | 18.61 |
| 1984-11-01 | 18.04 |
| 1984-12-01 | 16.26 |
| 1985-01-01 | 16.31 |
| 1985-02-01 | 14.44 |
| 1985-03-01 | 17.01 |
| 1985-04-01 | 15.67 |
| 1985-05-01 | 15.53 |
| 1985-06-01 | 15.45 |
| 1985-07-01 | 15.81 |
| 1985-08-01 | 15.82 |
| 1985-09-01 | 15.15 |
| 1985-10-01 | 15.17 |
| 1985-11-01 | 15.1 |
| 1985-12-01 | 14.5 |
| 1986-01-01 | 14.92 |
| 1986-02-01 | 14.01 |
| 1986-03-01 | 12.78 |
| 1986-04-01 | 12.83 |
| 1986-05-01 | 13.03 |
| 1986-06-01 | 12.66 |
| 1986-07-01 | 12.6 |
| 1986-08-01 | 12.79 |
| 1986-09-01 | 13.74 |
| 1986-10-01 | 13.86 |
| 1986-11-01 | 13.19 |
| 1986-12-01 | 13.27 |
| 1987-01-01 | 13.38 |
| 1987-02-01 | 13.22 |
| 1987-03-01 | 14.93 |
| 1987-04-01 | 19.26 |
| 1987-05-01 | 18.25 |
| 1987-06-01 | 17.53 |
| 1987-07-01 | 19.76 |
| 1987-08-01 | 17.65 |
| 1987-09-01 | 17.82 |
| 1987-10-01 | 16.32 |
| 1987-11-01 | 16.5 |
| 1987-12-01 | 15.75 |
| 1988-01-01 | 15.23 |
| 1988-02-01 | 14.63 |
| 1988-03-01 | 15.68 |
| 1988-04-01 | 15.1 |
| 1988-05-01 | 15.24 |
| 1988-06-01 | 15.41 |
| 1988-07-01 | 15.57 |
| 1988-08-01 | 15.11 |
| 1988-09-01 | 13.99 |
| 1988-10-01 | 14.22 |
| 1988-11-01 | 13.83 |
| 1988-12-01 | 13.65 |
| 1989-01-01 | 12.97 |
| 1989-02-01 | 13.09 |
| 1989-03-01 | 12.82 |
| 1989-04-01 | 12.43 |
| 1989-05-01 | 11.32 |
| 1989-06-01 | 11.33 |
| 1989-07-01 | 11.5 |
| 1989-08-01 | 11.1 |
| 1989-09-01 | 11.44 |
| 1989-10-01 | 11.18 |
| 1989-11-01 | 12.18 |
| 1989-12-01 | 11.23 |
| 1990-01-01 | 11.05 |
| 1990-02-01 | 10.91 |
| 1990-03-01 | 10.42 |
| 1990-04-01 | 10.44 |
| 1990-05-01 | 10.65 |
| 1990-06-01 | 10.25 |
| 1990-07-01 | 9.95 |
| 1990-08-01 | 9.91 |
| 1990-09-01 | 9.8 |
| 1990-10-01 | 8.43 |
| 1990-11-01 | 8.32 |
| 1990-12-01 | 8.52 |
| 1991-01-01 | 7.7 |
| 1991-02-01 | 7.52 |
| 1991-03-01 | 7.71 |
| 1991-04-01 | 7.98 |
| 1991-05-01 | 8.17 |
| 1991-06-01 | 8.84 |
| 1991-07-01 | 8.06 |
| 1991-08-01 | 7.6 |
| 1991-09-01 | 8.19 |
| 1991-10-01 | 8.05 |
| 1991-11-01 | 7.95 |
| 1991-12-01 | 7.62 |
| 1992-01-01 | 8.15 |
| 1992-02-01 | 8.02 |
| 1992-03-01 | 8 |
| 1992-04-01 | 7.74 |
| 1992-05-01 | 7.75 |
| 1992-06-01 | 7.78 |
| 1992-07-01 | 7.54 |
| 1992-08-01 | 7.19 |
| 1992-09-01 | 7.17 |
| 1992-10-01 | 7.14 |
| 1992-11-01 | 7.09 |
| 1992-12-01 | 6.99 |
| 1993-01-01 | 6.91 |
| 1993-02-01 | 6.76 |
| 1993-03-01 | 7.3 |
| 1993-04-01 | 8.24 |
| 1993-05-01 | 8.63 |
| 1993-06-01 | 8.54 |
| 1993-07-01 | 10.08 |
| 1993-08-01 | 9.06 |
| 1993-09-01 | 7.57 |
| 1993-10-01 | 8.07 |
| 1993-11-01 | 8.18 |
| 1993-12-01 | 9.43 |
| 1994-01-01 | 9.45 |
| 1994-02-01 | 9.88 |
| 1994-03-01 | 10.58 |
| 1994-04-01 | 9.81 |
| 1994-05-01 | 10.13 |
| 1994-06-01 | 9.85 |
| 1994-07-01 | 9.67 |
| 1994-08-01 | 9.93 |
| 1994-09-01 | 10.19 |
| 1994-10-01 | 9.48 |
| 1994-11-01 | 8.83 |
| 1994-12-01 | 8.82 |
| 1995-01-01 | 8.35 |
| 1995-02-01 | 8.13 |
| 1995-03-01 | 9.44 |
| 1995-04-01 | 10.23 |
| 1995-05-01 | 9.39 |
| 1995-06-01 | 8.92 |
| 1995-07-01 | 8.92 |
| 1995-08-01 | 9.46 |
| 1995-09-01 | 9.64 |
| 1995-10-01 | 9.39 |
| 1995-11-01 | 9.12 |
| 1995-12-01 | 9.12 |
| 1996-01-01 | 9.74 |
| 1996-02-01 | 9.62 |
| 1996-03-01 | 9.58 |
| 1996-04-01 | 9.18 |
| 1996-05-01 | 9.29 |
| 1996-06-01 | 8.63 |
| 1996-07-01 | 8.83 |
| 1996-08-01 | 8.96 |
| 1996-09-01 | 8.32 |
| 1996-10-01 | 8.18 |
| 1996-11-01 | 8.03 |
| 1996-12-01 | 8.11 |
| 1997-01-01 | 8.32 |
| 1997-02-01 | 9.03 |
| 1997-03-01 | 8.54 |
| 1997-04-01 | 7.87 |
| 1997-05-01 | 7.86 |
| 1997-06-01 | 7.79 |
| 1997-07-01 | 7.53 |
| 1997-08-01 | 7.82 |
| 1997-09-01 | 8.74 |
| 1997-10-01 | 7.89 |
| 1997-11-01 | 8.74 |
| 1997-12-01 | 9.98 |
| 1998-01-01 | 10.2 |
| 1998-02-01 | 10.76 |
| 1998-03-01 | 10.74 |
| 1998-04-01 | 10.31 |
| 1998-05-01 | 8.41 |
| 1998-06-01 | 9.13 |
| 1998-07-01 | 9 |
| 1998-08-01 | 7.68 |
| 1998-09-01 | 8.82 |
| 1998-10-01 | 8.28 |
| 1998-11-01 | 7.95 |
| 1998-12-01 | 8.23 |
| 1999-01-01 | 8.57 |
| 1999-02-01 | 9.21 |
| 1999-03-01 | 8.11 |
| 1999-04-01 | 8.79 |
| 1999-05-01 | 7.93 |
| 1999-06-01 | 8.57 |
| 1999-07-01 | 8.83 |
| 1999-08-01 | 8.39 |
| 1999-09-01 | 9 |
| 1999-10-01 | 8.29 |
| 1999-11-01 | 8.33 |
| 1999-12-01 | 8.71 |
| 2000-01-01 | 8.48 |
| 2000-02-01 | 8.08 |
| 2000-03-01 | 7.93 |
| 2000-04-01 | 7.86 |
| 2000-05-01 | 7.8 |
| 2000-06-01 | 7.92 |
| 2000-07-01 | 7.85 |
| 2000-08-01 | 7.85 |
| 2000-09-01 | 7.67 |
| 2000-10-01 | 7.39 |
| 2000-11-01 | 7.27 |
| 2000-12-01 | 7.15 |
| 2001-01-01 | 7.4 |
| 2001-02-01 | 6.9 |
| 2001-03-01 | 6.56 |
| 2001-04-01 | 6.62 |
| 2001-05-01 | 6.68 |
| 2001-06-01 | 6.53 |
| 2001-07-01 | 6.41 |
| 2001-08-01 | 6.37 |
| 2001-09-01 | 7.06 |
| 2001-10-01 | 6.4 |
| 2001-11-01 | 6.28 |
| 2001-12-01 | 6.98 |
| 2002-01-01 | 6.42 |
| 2002-02-01 | 6.83 |
| 2002-03-01 | 7 |
| 2002-04-01 | 6.81 |
| 2002-05-01 | 7.55 |
| 2002-06-01 | 7.26 |
| 2002-07-01 | 6.87 |
| 2002-08-01 | 6.65 |
| 2002-09-01 | 6.76 |
| 2002-10-01 | 6.69 |
| 2002-11-01 | 6.56 |
| 2002-12-01 | 7.16 |
| 2003-01-01 | 7.2 |
| 2003-02-01 | 6.76 |
| 2003-03-01 | 6.52 |
| 2003-04-01 | 6.81 |
| 2003-05-01 | 6.65 |
| 2003-06-01 | 6.69 |
| 2003-07-01 | 7.5 |
| 2003-08-01 | 7.48 |
| 2003-09-01 | 7.48 |
| 2003-10-01 | 7.37 |
| 2003-11-01 | 7.82 |
| 2003-12-01 | 8.71 |
| 2004-01-01 | 9.09 |
| 2004-02-01 | 9.7 |
| 2004-03-01 | 11.41 |
| 2004-04-01 | 8.72 |
| 2004-05-01 | 8.7 |
| 2004-06-01 | 8.22 |
| 2004-07-01 | 9.32 |
| 2004-08-01 | 9.67 |
| 2004-09-01 | 9.84 |
| 2004-10-01 | 10.3 |
| 2004-11-01 | 10.9 |
| 2004-12-01 | 9.67 |
| 2005-01-01 | 9.53 |
| 2005-02-01 | 10.37 |
| 2005-03-01 | 10 |
| 2005-04-01 | 9.59 |
| 2005-05-01 | 10.32 |
| 2005-06-01 | 9.78 |
| 2005-07-01 | 10.01 |
| 2005-08-01 | 9.38 |
| 2005-09-01 | 10.17 |
| 2005-10-01 | 10.24 |
| 2005-11-01 | 11.31 |
| 2005-12-01 | 12.14 |
| 2006-01-01 | 13.42 |
| 2006-02-01 | 13.26 |
| 2006-03-01 | 15.52 |
| 2006-04-01 | 18.18 |
| 2006-05-01 | 16.55 |
| 2006-06-01 | 14.47 |
| 2006-07-01 | 15.04 |
| 2006-08-01 | 17.17 |
| 2006-09-01 | 15.31 |
| 2006-10-01 | 16.37 |
| 2006-11-01 | 18.68 |
| 2006-12-01 | 17.27 |
| 2007-01-01 | 18.06 |
| 2007-02-01 | 18.88 |
| 2007-03-01 | 17.63 |
| 2007-04-01 | 17.62 |
| 2007-05-01 | 17.46 |
| 2007-06-01 | 16.09 |
| 2007-07-01 | 16.82 |
| 2007-08-01 | 15.8 |
| 2007-09-01 | 17.97 |
| 2007-10-01 | 18.6 |
| 2007-11-01 | 17.95 |
| 2007-12-01 | 19.1 |
| 2008-01-01 | 21.67 |
| 2008-02-01 | 25.31 |
| 2008-03-01 | 21.83 |
| 2008-04-01 | 20.77 |
| 2008-05-01 | 20.96 |
| 2008-06-01 | 21.52 |
| 2008-07-01 | 21.77 |
| 2008-08-01 | 16.82 |
| 2008-09-01 | 15.1 |
| 2008-10-01 | 12.09 |
| 2008-11-01 | 12.92 |
| 2008-12-01 | 14.45 |
| 2009-01-01 | 16.02 |
| 2009-02-01 | 16.63 |
| 2009-03-01 | 16.44 |
| 2009-04-01 | 15.55 |
| 2009-05-01 | 19.65 |
| 2009-06-01 | 16.97 |
| 2009-07-01 | 17.43 |
| 2009-08-01 | 18.6 |
| 2009-09-01 | 20.76 |
| 2009-10-01 | 20.24 |
| 2009-11-01 | 23.02 |
| 2009-12-01 | 21 |
| 2010-01-01 | 20.11 |
| 2010-02-01 | 20.51 |
| 2010-03-01 | 21.68 |
| 2010-04-01 | 23.01 |
| 2010-05-01 | 22.73 |
| 2010-06-01 | 23.1 |
| 2010-07-01 | 22.23 |
| 2010-08-01 | 23.95 |
| 2010-09-01 | 26.88 |
| 2010-10-01 | 30.24 |
| 2010-11-01 | 34.67 |
| 2010-12-01 | 37.99 |
| 2011-01-01 | 34.42 |
| 2011-02-01 | 41.12 |
| 2011-03-01 | 45.66 |
| 2011-04-01 | 58.17 |
| 2011-05-01 | 45.62 |
| 2011-06-01 | 41.55 |
| 2011-07-01 | 47.81 |
| 2011-08-01 | 49.61 |
| 2011-09-01 | 35.68 |
| 2011-10-01 | 40.85 |
| 2011-11-01 | 38.97 |
| 2011-12-01 | 33.29 |
| 2012-01-01 | 39.52 |
| 2012-02-01 | 40.94 |
| 2012-03-01 | 38.14 |
| 2012-04-01 | 36.27 |
| 2012-05-01 | 32.51 |
| 2012-06-01 | 32.38 |
| 2012-07-01 | 32.8 |
| 2012-08-01 | 36.71 |
| 2012-09-01 | 40.22 |
| 2012-10-01 | 37.61 |
| 2012-11-01 | 38.84 |
| 2012-12-01 | 35.42 |
| 2013-01-01 | 36.65 |
| 2013-02-01 | 32.95 |
| 2013-03-01 | 32.74 |
| 2013-04-01 | 28 |
| 2013-05-01 | 25.72 |
| 2013-06-01 | 22.44 |
| 2013-07-01 | 22.61 |
| 2013-08-01 | 27.05 |
| 2013-09-01 | 24.97 |
| 2013-10-01 | 25.22 |
| 2013-11-01 | 23.09 |
| 2013-12-01 | 22.37 |
| 2014-01-01 | 22.01 |
| 2014-02-01 | 24.36 |
| 2014-03-01 | 22.5 |
| 2014-04-01 | 21.75 |
| 2014-05-01 | 21.15 |
| 2014-06-01 | 23.76 |
| 2014-07-01 | 23.07 |
| 2014-08-01 | 22.04 |
| 2014-09-01 | 19.29 |
| 2014-10-01 | 18.26 |
| 2014-11-01 | 17.69 |
| 2014-12-01 | 17.87 |
| 2015-01-01 | 19.82 |
| 2015-02-01 | 18.98 |
| 2015-03-01 | 18.92 |
| 2015-04-01 | 18.38 |
| 2015-05-01 | 18.91 |
| 2015-06-01 | 17.57 |
| 2015-07-01 | 16.63 |
| 2015-08-01 | 16.48 |
| 2015-09-01 | 16.42 |
| 2015-10-01 | 17.62 |
| 2015-11-01 | 15.94 |
| 2015-12-01 | 15.7 |
| 2016-01-01 | 16.18 |
| 2016-02-01 | 16.93 |
| 2016-03-01 | 17.47 |
| 2016-04-01 | 20.04 |
| 2016-05-01 | 17.93 |
| 2016-06-01 | 20.79 |
| 2016-07-01 | 22.77 |
| 2016-08-01 | 20.9 |
| 2016-09-01 | 21.42 |
| 2016-10-01 | 19.82 |
| 2016-11-01 | 18.31 |
| 2016-12-01 | 17.82 |
| 2017-01-01 | 19.46 |
| 2017-02-01 | 20.4 |
| 2017-03-01 | 20.15 |
| 2017-04-01 | 18.99 |
| 2017-05-01 | 19.15 |
| 2017-06-01 | 18.26 |
| 2017-07-01 | 18.46 |
| 2017-08-01 | 19.24 |
| 2017-09-01 | 18.19 |
| 2017-10-01 | 18.21 |
| 2017-11-01 | 17.9 |
| 2017-12-01 | 18.7 |
| 2018-01-01 | 18.72 |
| 2018-02-01 | 17.72 |
| 2018-03-01 | 17.55 |
| 2018-04-01 | 17.6 |
| 2018-05-01 | 17.61 |
| 2018-06-01 | 17.28 |
| 2018-07-01 | 16.62 |
| 2018-08-01 | 15.52 |
| 2018-09-01 | 15.68 |
| 2018-10-01 | 15.2 |
| 2018-11-01 | 15.09 |
| 2018-12-01 | 16.62 |
| 2019-01-01 | 17.18 |
| 2019-02-01 | 16.63 |
| 2019-03-01 | 16 |
| 2019-04-01 | 15.76 |
| 2019-05-01 | 15.31 |
| 2019-06-01 | 16.1 |
| 2019-07-01 | 17.21 |
| 2019-08-01 | 19.21 |
| 2019-09-01 | 17.81 |
| 2019-10-01 | 18.9 |
| 2019-11-01 | 17.8 |
| 2019-12-01 | 18.76 |
| 2020-01-01 | 18.8 |
| 2020-02-01 | 17.12 |
| 2020-03-01 | 14.76 |
| 2020-04-01 | 15.71 |
| 2020-05-01 | 19.42 |
| 2020-06-01 | 19.44 |
| 2020-07-01 | 25.16 |
| 2020-08-01 | 29.59 |
| 2020-09-01 | 24.29 |
| 2020-10-01 | 24.45 |
| 2020-11-01 | 23.32 |
| 2020-12-01 | 27.27 |
| 2021-01-01 | 27.69 |
| 2021-02-01 | 27.07 |
| 2021-03-01 | 24.92 |
| 2021-04-01 | 26.08 |
| 2021-05-01 | 28.01 |
| 2021-06-01 | 26.05 |