AvaPartner Affiliate program is there for Forex affiliates to earn quick and easy money by promoting Avatrade (Check everything about this broker in avatrade review article.). This opportunity is very good for affiliates as every new user might generate meaningful revenues for the trading site. This becomes even better for Forex affiliates, more than other web commerce programs might offer. AvaForex or Avatrade is a broker that has a license regulated by the Dublin Exchange facility. AvaFx is one of the oldest Forex broker, and Avapartner Forex affiliate program has been managed by AvaFx. They claim to have the highest client value in the industry, as their client on average is worth 6000 USD. That truly makes AvaFx one of the most profitable brokers online. The way to reach customers of this volume is to make possibilities for them to earn money in every case.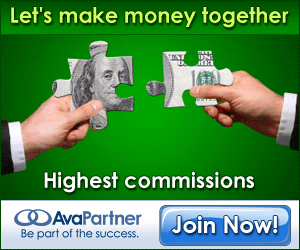 To avoid being suspicious about not showing the conversion rate, AvaPartner affiliate program are completely transparent regarding that, and they are proud to show what they have, instead of just claiming to have high conversions rate.
AvaPartner Affiliate Program
APAP is reachable to customers worldwide regardless of their knowledge of English, as they offer their program in many languages. Affiliates at Avapartner can register their account in their own language, and they also can have other marketing materials in their languages. The support team can provide you trading support even if you are amateur or professional trader.
APAP uses a custom built in-house developed program, which is easily comprehendible. In order to register, one won't find any difficulties, and the approval for affiliates will appear to be done very soon. After that promoting AvaFx starts. Different tools for Forex affiliates for promoting AvaFx are offered. Among those you will see pre made HTML mailers, java script widgets or banners. Highly customized landing pages are offered for affiliates to use. When the affiliates want to select tracking links, they can use those landing pages.
AvaPartner Affiliate Commissions
APAC can chose among CPA, Revenue share or a hybrid commission model with fixed or flexible rates of CPA that will enable you to immediately cash in any newly brought customer. Revenues shared will get you the maximum payment from the life time value of your customer that has average value of 6000 USD. Should you chose or feel need to cover the marketing costs; you can use hybrid deal that will get you the best. Avapartner affiliate program offers a model of second tier commission which gets the referring affiliate 10% bonus commissions generated from Avapartner referred affiliates.
AvaPartner Affiliate Payments
Methods that are offered at APAP are numerous. Payments are conducted once per month, and it has to be done by the middle of each month. You can choose between PayPal, Wire Transfer or direct Payment to your trading platform. Affiliates are offered the option to change their methods of payment at any point.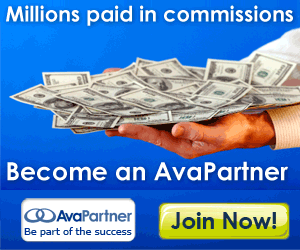 Conclusion
As Avapartner is one of the oldest Forex affiliate program, it has very good reputation and it is really reliable. Promoting their AvaForex broker, their affiliates can get different marketing materials, such are live widgets. Payments are prompt and affiliate support is excellent, which makes Avapartner affiliate Program serious and reliable affiliate program.