In this modern world, everything in our daily lives is influenced by technology. It somehow assures us that we will complete our work on time and safely. Everything is one click away, and we don't have to put in the extra effort.
One such industry with widely adopted technology to provide services finance. Capital.com, a global CFD broker, comes up with many ways to make financing activities convenient and available to everyone.
CAPITAL
Best crypto broker
Rank 98

Trade Forex, Stocks
6,100+ trading instruments



Rich crypto asset
Quite famous in its field, Capital.com provides numerous financing and trading facilities to commercials and retail clients. In addition, the company offers its services in many countries, making its more extensive client base approachable.
Read this review about Capital.com to learn how it works, what services it provides, and what benefits or difficulties you can experience while using it.
GET CAPITAL.COM OFFER
Capital.com Introduction
Capital.com was launched in the year 2016. At present, it has more than a million registered clients. The company has offices in Australia, Belarus, Cyprus, Gibraltar, and London and operates across 50 countries. The company primarily focuses on providing its clients with facilities to trade CFDs (forex, stocks, indices, etc.). Their online website is equipped with artificial intelligence to help traders make optimized decisions and educate them about the crucial aspects of trading different assets.
Is Capital.com legit?
Yes, Capital.com is a legitimate company regulated by ASIC, CySEC, and FCA. The company has an official business address, valid phone numbers, live support, and active support on several social websites.
Capital.com Trading Platforms
Capital.com trading platforms are:
Capital.com Mobile App
Capital.com Web Platform
MetaTrader 4
TradingView
To learn more about TradingView, visit:
VISIT TRADINGVIEW
Capital.com provides its clients with a highly interactive trading platform. This platform was developed to create a better user experience than others. The website can also be accessed through a mobile app. Switching between the web page and a mobile app does not make it less efficient in its performance. The interface is seemingly smooth, well-organized, and clean of unnecessary figures.
Below you can see my capital.com web trader platform: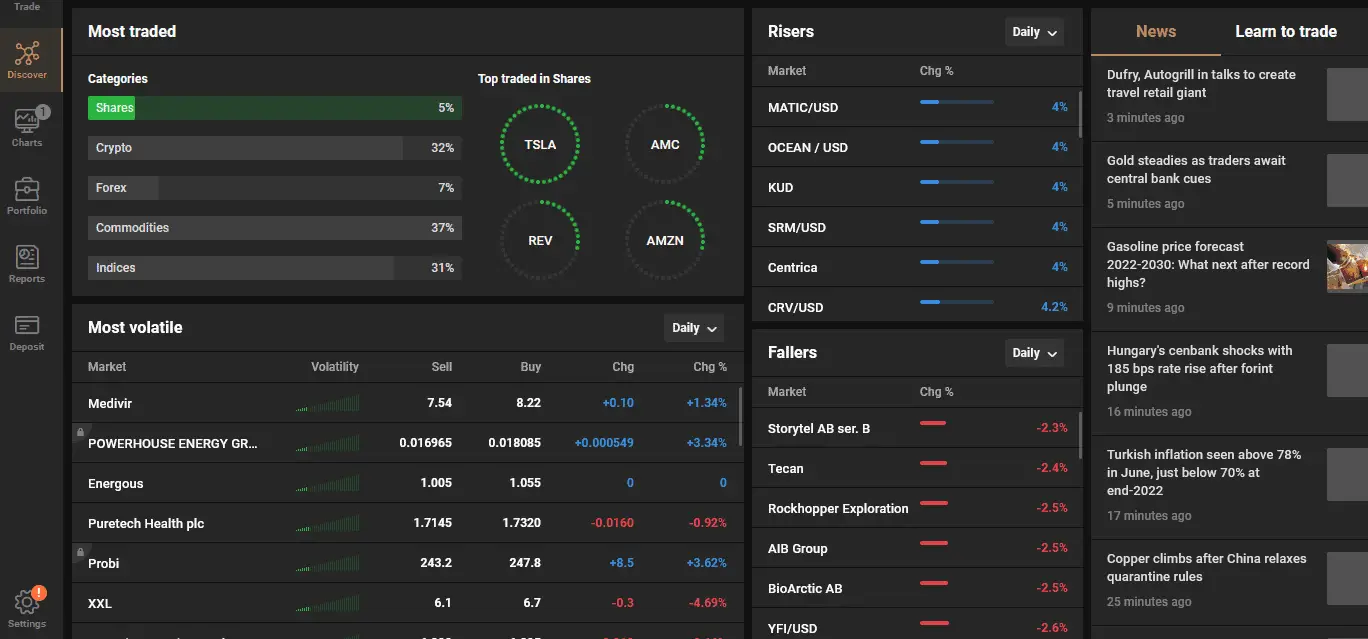 As you can see above, on the Capital.com dashboard, you can see top rising assets, greatest falling assets, best-performing stocks, forex, and cryptos.
The platform is carefully designed to make trading a smooth process. But it lacks any complex information that can be obtained with the help of charts, graphs, or any technical analysis tool. But to overcome this issue, Capital.com also allows its clients to use the MetaTrader4 platform.
The MT4 platform is well-equipped and compatible with all the tools and charts an expert trader needs. And this platform is accessible on the Capital.com website.
An important thing to note here is that the MT4 platform is unavailable to UK-based traders.
Capital.com Mobile App Capital.com has an equally smooth working mobile app and web page. Accordingly, the CFD Trading App can be downloaded on iOS and Android from the App Store and Play Store. The app is fully functional and is supported by an additional app, Investmate, created to educate traders.
Below you can see my Capital.com Review video:

Tradable Markets or Assets
Capital.com provides its clients with a comprehensive option of markets and assets that a trader can choose from. On this single website, traders can choose from over 140 Forex currency pairs, 27 tradable commodities, 138 cryptocurrencies worldwide, nearly 22 indices, and approximately 3700 stocks. Based on a recent update, capital.com has more than 6100 assets.
Capital.com and ESMA Regulated Leverage
As discussed above, Capital.com provides a variety of assets that a trader can trade CFDs on. Therefore, Capital.com follows the leverage regulations as per ESMA compliance. The following is a list of different asset classes and their leverage ratios.
Cryptocurrency- 2:1
Individual Equity- 5:1
Commodities ( non-major equity indices and gold not included)- 10:1
Gold, minor currency pairs, or major indices- 20:1
Major currency pairs- 30:1
The leverage ratio rules are applied to protect traders from the risks of trading these assets. The trouble is more profound when the trader is new and may not know all the trading strategies.
A higher level of leverage may be eligible to apply for a professional account. But Capital.com comes with some requirements and risks. For example, to open a professional account, traders have to show that they have carried out transactions, of considerable size, on the relevant market at an average frequency of 10 per quarter, the size of the Client's financial instrument portfolio exceeds 500.000, and that the client works or has worked in the financial sector for at least one year in a professional position.
Also, higher leverage means higher risk. Therefore, the leverage protection on Capital.com does not apply to professional account holders, and there are chances that they may lose more than the capital they deposit.
Costs and Commission of Trading
Almost every trading platform has costs and commissions that need to be incurred by the traders for using these platforms. However, Capital.com has tight spreads (https://capital.com/capital-com-vs-competitors) and zero commissions.
Capital.com does not take fees (no commission) for:
Deposit
Withdrawal
Dynamic charts and indicators
Opening/Closing trades
 Real-time Quotes
 Educational material
Capital.com Payment Methods
Capital.com users can use their credit or debit cards to make payments s or bank transfers. Other options available are QIWI, Giropay, or ApplePay.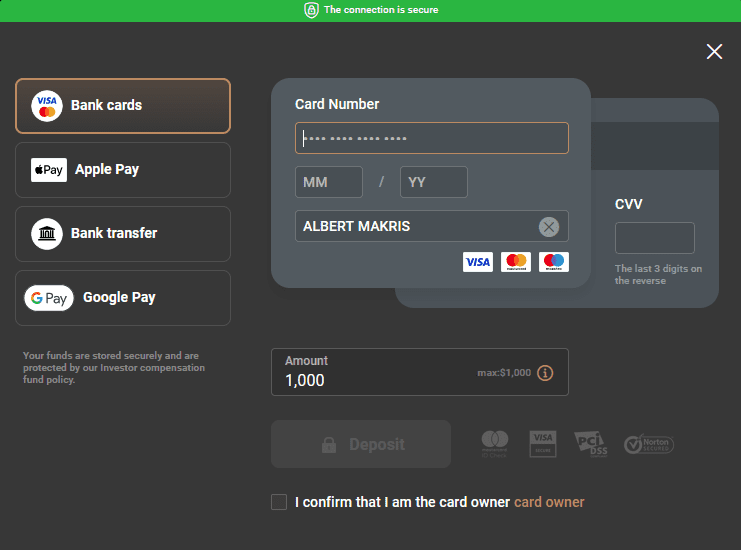 Above, you can see my Captail.com account payment options.
Capital.com is fully compliant with PCI Data Security Standards. Apart from this, many modes are available to deposit or withdraw funds. Users can check the list of available methods on the FAQ page of the website.
Capital.com also allows its clients to open their accounts in USD, EUR, GBP, or Zloty. Also, it does not charge any commission or fees on withdrawals or deposits.
Stand-Out Features of Capital.com
What differentiates Capital.com from its competitors is that it's equipped with artificial intelligence. This feature provides customized news feeds for the clients. In addition, they also assist users in improving their knowledge with the help of occasional webinars.
Another beneficiary feature of Capital.com is that it gives the option of demo accounts, which is very useful when traders use this platform for the first time. Along with that, an economic calendar is also available on Capital.com to forecast the movements in the market.
Unlike similar platforms, Capital.com offers no bonuses or promotions to its users. This indicates the platform is reliable and robust and does not require any propositions to attract more clients.
Types of Accounts Offered on Capital.com
The use of the Capital.com platform is not restricted to only one type of account. Both retail and commercial traders can open accounts on this platform. Different categories of accounts that traders can choose from are: standard, plus, premier, or invest. Invest being recently introduced.
Essential facilities for trading are given in all the account types. What differentiates these accounts is that the add-on service,s and the minimum deposits required for each type of account is also different. For example, the minimum deposit for a standard account is $20 by card or $250 by wire transfer, while for a premier account, it is $10,000. Premier and professional account holders also get access to exclusive events and webinars.
The recently introduced Invest account gives affordable stock services. In addition, Capital.com does not charge any extra fees or commissions on any stock investment services.
Advantages of Capital.com
Some of the benefits that users can experience on Capital.com that other platforms may not be able to provide are:
One of the main advantages is that Capital.com aims to educate its users and provide a trading platform.
The eQ, a patented AI trade bias detection system, helps provide customized news feeds and helps understand the mistakes made while trading.
The economic calendar helps in estimating basic market movements.
Although the market timings usually depend on the asset class, Capital.com is operational 24/7.
Disadvantages of Capital.com
There are certain drawbacks to Capital.com as well.
The MT4 platform is available on the website, but clients in the UK cannot use it.
Also, the deposits made for opening certain types of accounts are higher than other players in the market.
Capital.com Client Support
As Capital.com works 24/7, its client support is also available round the clock. Clients can contact them through email or messenger, and they have chat support that can be accessed through the website.
Is Capital.com good?
Capital.com is an excellent and well-organized broker because it offers fast execution and small spreads. The stand-out features of Capital.com, like the eQ, patented AI trade bias detection system, its focus on educating traders, 24/7 operational website, and customer support, make it a wise choice for traders.
It also works per the regulations set by the authorities like FCA and CySEC. It is smooth in functioning on both the mobile app and website. Both new and expert traders can easily access it. But the commission, fees, and initial deposits made for certain accounts are higher than its competitors. Besides that, it is an excellent choice for those who want to learn and trade simultaneously.
GET CAPITAL.COM OFFER