Relative Strength Index – RSI
1.0 What is Relative Strength Index ?
Relative strength index is technical indicator which compares current and historical gains and losses in order to define if the asset's value is overpriced or underpriced. Formula for calculating RSI is:
RSI = 100 – 100/(1 + RS*)
RS = Average of x days' up closes / Average of x days' down closes
Example of GBPUSD chart – RSI indicator is red: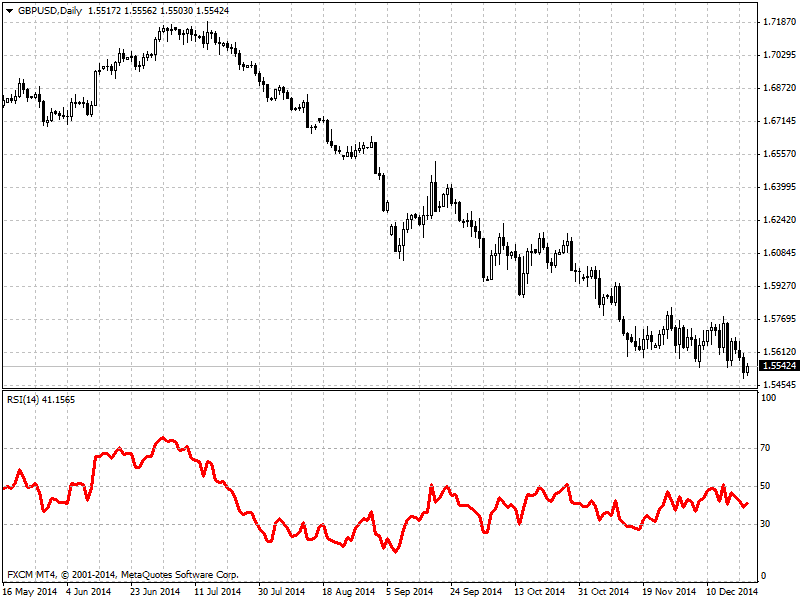 Interval in which RSI ranges is from 0 to 100 and it shows if asset is overvalued or undervalued. In fact, as the RSI closes to level 70, the asset can be considered overvalued and has a big chance to be overbought. On the other hand, when RSI reaches level 30 the asset is deemed to be oversold. The best way to use this index is as a additional information to other stock-picking tools because using only RSI trader can create false buy and sell signals which can mislead observer.
2.0 How we can trade using this RSI indicator ?
1) We can use RSI to determine overbought and oversold moment in trading. Below 30 is oversold and above 70 is overbought.There are some rules for traders :
– Market can be oversold or overbought very long time. It is not smart to trade sell orders above 70 and buy orders below 30 without deep analysis.
– Do not buy in oversold market or sell in overbought market without some conformation in your direction (for example some big move, strong bullish or bearish candle etc.)
– The best strategy is – buy or sell afther pullback and respect main trend. For example if trend is bullish on daily or H4 chart, price is above 50 RSI in strong bullish direction you can buy if price goes in oversold area on 5 minute or 30 minutes chart. See images below :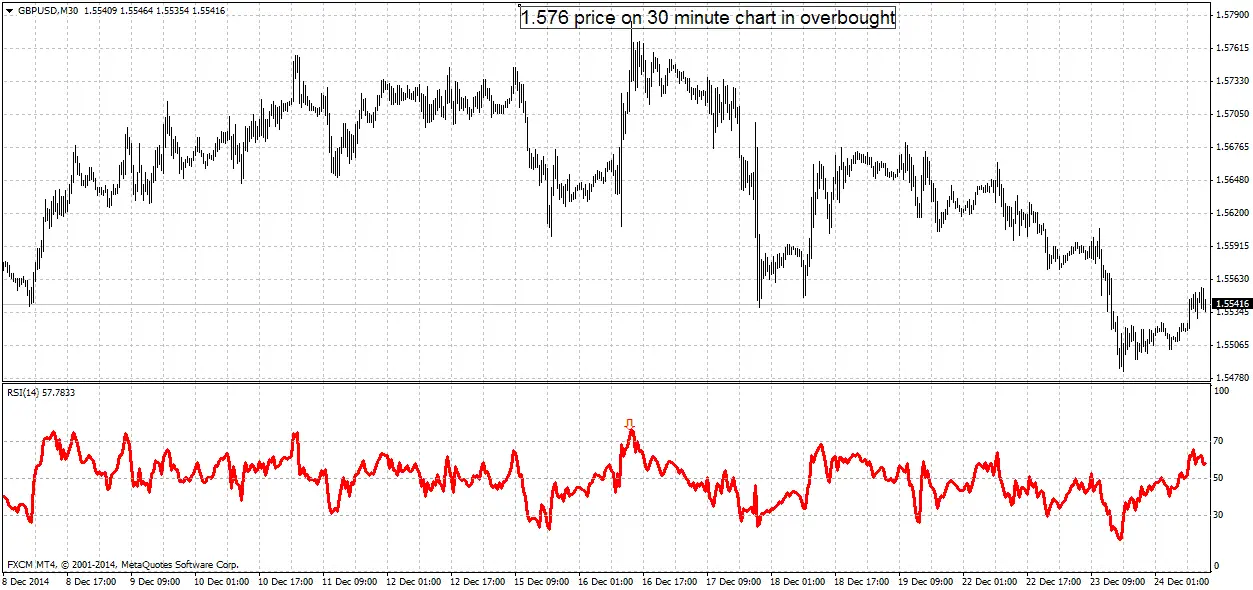 On daily chart we see bearish trend. Next 7 days price will fall 300 pips down :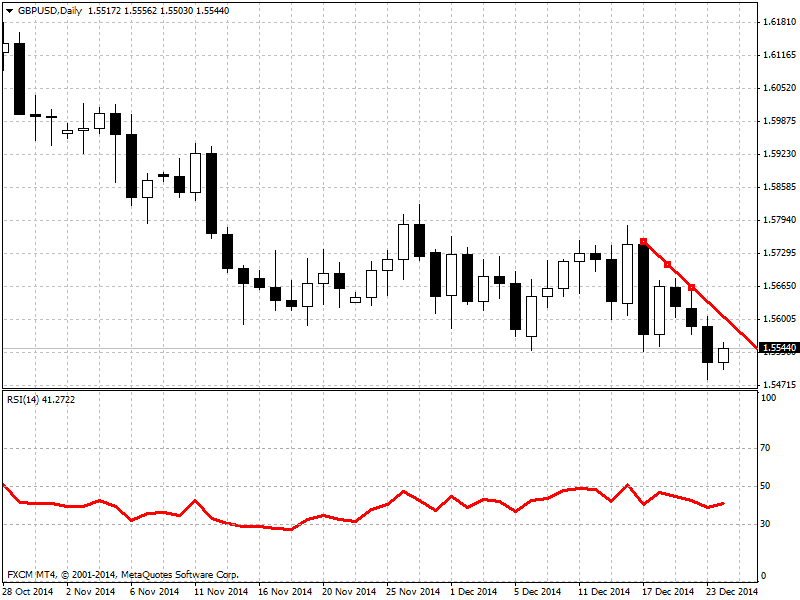 2) We can use RSI indicator to find divergence and predict posibile change of the trend :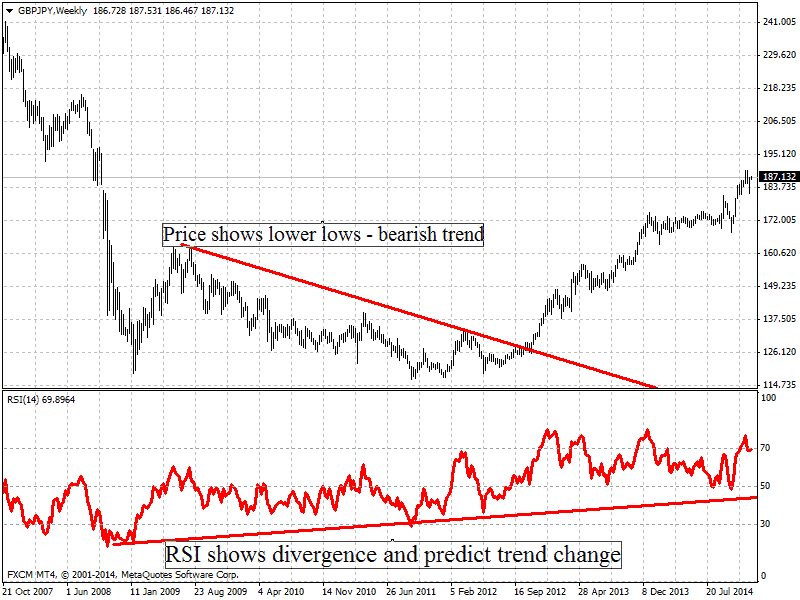 Using RSI trend lines we can avoid false breakout in trading.
3) My favorite way to use RSI – draw trendlines on RSI chart and use for trading !
Traders can draw trendlines below and above RSI line. If price breaks trendline than trend will change. See example :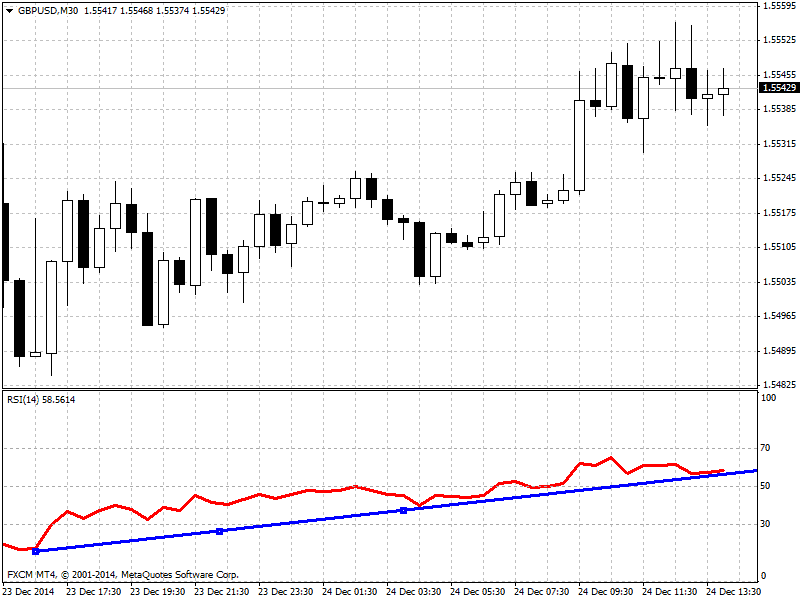 This example shows bullish trend on 30 min chart.I can make buy orders above trendline but if price breaks RSI trendline than trend is changed.Of course on 30 minute chart we can see 25% from ATR bearish trend in price breaks this line (around 20 pips).If price breaks daily trendline RSI that can give few hunderds pips profit.
Please ask anything about RSI !
Regards!