During the last two years, binary options have seen a huge boost in popularity. Profits returned are high and trading system is easy, which explains the popularity.
Comparing binary options with the Forex will get you a closer look to binary options. That is if you already know a thing or two about trading markets, stock market, the Forex market and similar markets. If you are not fond of stock markets, but rather would like to give it a try in the Forex market, try to see if the Binary options is the right thing for you.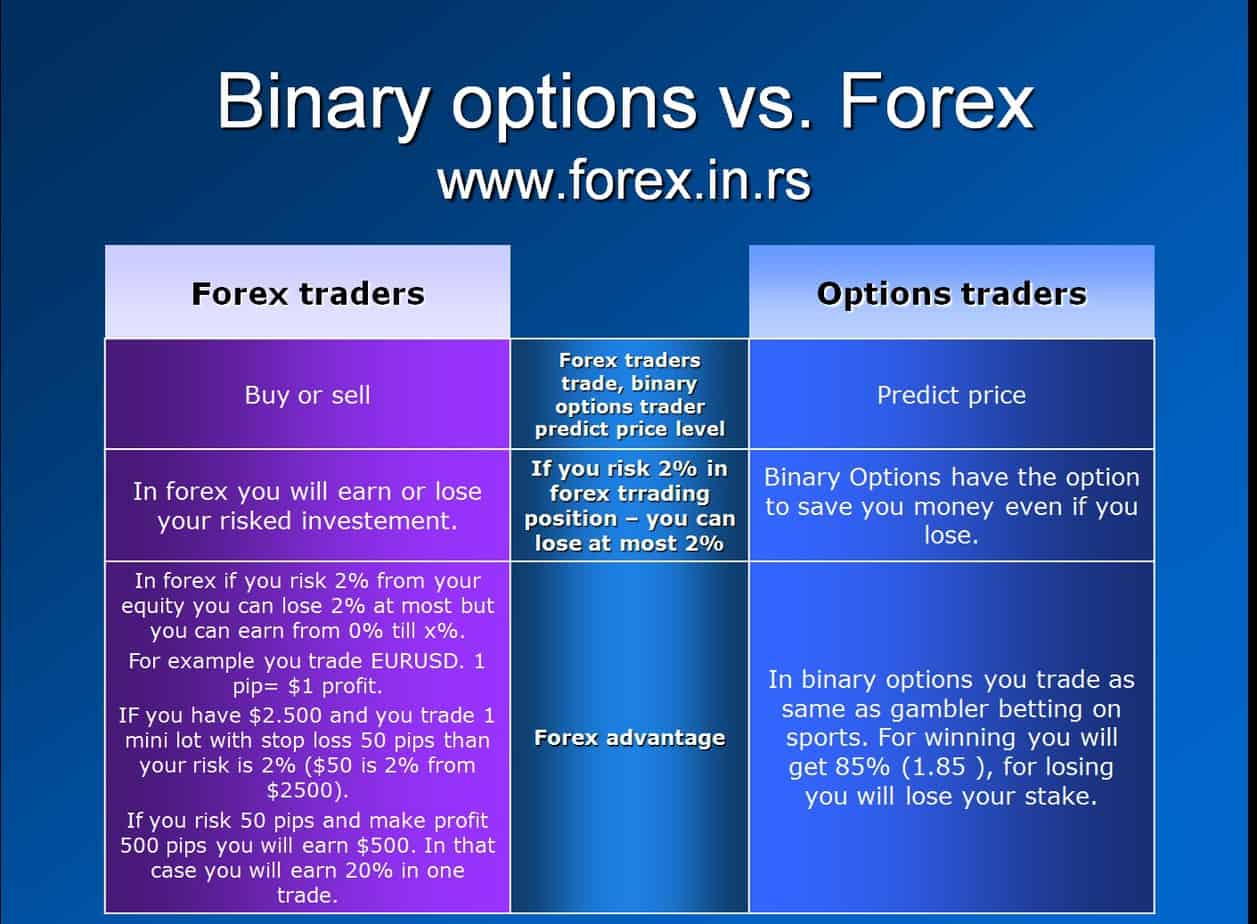 What is Forex?
Forex is a market where people trade currencies. They estimate if a certain currency would increase or decrease. Here is an example: the value of euro in comparison with dollar is 1,30850, which means that for 1euro you can get 1.30850 dollars. If you think the price would increase, you should buy one lot of this currency pair and wait until the value of euro would increase so you sell it for 1.3092 dollars per euro.
What are Binary Options?
In Binary Options, you don't buy or sell anything. You only have to estimate whether a certain currency pair or a stock would increase in value, or decrease. So given the previous example, if the currency pair GBPNZD has the value of 2.00, and you assume based on your research, that the value would increase in the next hour, you then place a call on that currency pair and wait. If you guess right, you then make the profit. Depending on where you trade Binary Options, you can get about 80% of your investment. Also, some traders offer you to save some of your investment in the case of your misjudging.
Forex trading advantage example :
In forex if you risk 2% from your equity you can lose 2% at most but you can earn from 0% till x%.
For example you trade EURUSD. 1 pip= $1 profit.
IF you have $2.500 and you trade 1 mini lot with stop loss 50 pips than your risk is 2% ($50 is 2% from $2500).
If you risk 50 pips and make profit 500 pips you will earn $500. In that case you will earn 20% in one trade.
About the margin
When trading with the Forex, the broker determines the maximum margin which can vary from 1:200 to 1:500. This makes you able to make more money in the case that you have a large investment capital. In Binary Options, there is no margin. This doesn't mean that you are disabled to make larger profits. But there is also no limit in terms of getting a margin call.
Comparing payouts and losses
Binary Options have the option to save you money even if you lose. Forex doesn't. You can lose all your investment portion (for example all 2% which you risked) in trading currency pairs. In Binary Options, depending on your broker, you can save sometimes up to 15% of your initial investment. On the other hand, that means that Binary options usually pay out 80% of your investment. True, sometimes it can be several hundred per cent. If you invest a hundred dollars, and your option turns to be a winning one, you will get 80 dollars. If you miss, you will lose only your investment, and sometimes you will even save up to 15%.
Forex doesn't have either of the limits. That means that if you start losing, and you don't close the deal in time, it can drain your entire trading account. You have to stop (close) the trade always, whether you start winning or losing.
In Binary Options, when it comes to closing, you have preorder the time of closing. For example, you order a guess of the currency pair or a stock value will increase in 1 hour from now. If it doesn't, you are over, if it does – you are done.
Some brokers offer you to close trade "manually", but some don't. Depending on your trade, if you decide to close the trade earlier, you get what you get. There is also a possibility with some brokers to "delay" the expiry time. But if you call for that option, you will have to invest some more in that trade.
But if you consider these options with Binary Options as advantageous in favor against Forex possibilities, be careful, as not every broker has it.
Possibilities to trade with Forex are many, but the most common are Buy/sell orders. Binary Options have five types that you can trade: High/Low, 60 seconds option, boundary options, option builder and touch/no touch option.
The things that you trade with Forex are called "lots". One lot can be about 1000 units of your chosen currency pairs, but it can be a smaller lot, or for those with bigger appetite, you can trade on a larger scale, millions of dollars.
Binary options will be determined by the broker. The minimum amount per trade can be like 5 dollars, or up to a thousand or more.